by Shoei
Shoei Glamster 06 Helmet Basalt Grey
We've been eyeing Shoei's Glamster model for a long time for The Occasional Rider range, but it's only now that the stars aligned and we got the opportunity to take it in. We have to admit that we are really impressed and that. Very nice design and quality that really deserves a place on the wall in the store (and at your home).
Shoei Glamster 06 is a retro-inspired integral helmet with the latest safety standard. Low weight, good ventilation and a large field of vision also provide a high level of comfort.
As with all current Shoei helmets, the liner is completely removable and washable.
Good ventilation thanks to an integrated ventilation system with four intakes and two exhausts
Cheek pads with EQRS (Emergency Quick Release System) so that the helmet can be easily removed in the event of an accident
Visor prepared for anti-fog PINLOCK® lens (included)
A tinted visor is available as an option
Three different shell sizes (XS-M, L, XL-XXL)

Approved according to ECE 22-06
The product image from Shoei shows the helmet as matte but it is glossy. Check the other environmental pictures to get a more accurate picture of the color.
Glamster 06 is available in more colors . If you are interested in any of the colors we do not have in stock, we can often take them home with fast delivery. Contact us and we will help you check availability and delivery time.
Size guide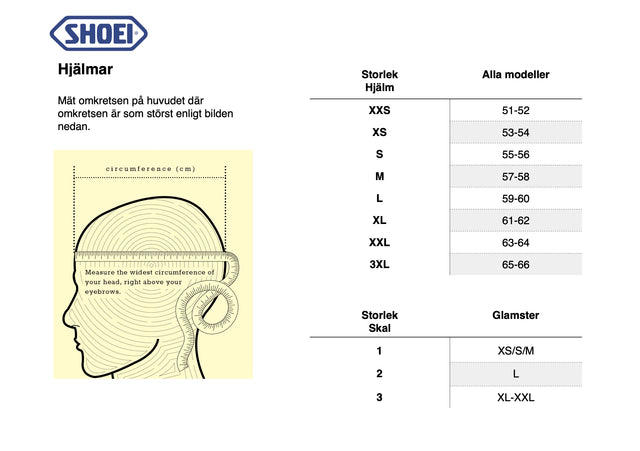 Care guide
The outside is wiped with a damp microfiber cloth. Use only lukewarm water and possibly a little mild soap. Never use strong cleaning agents or window cleaner as this can weaken the helmet's construction. The inside can be removed and washed and can also be replaced with a new one if it becomes worn.